Yacht Charter Turkey
Yacht Charter Turkey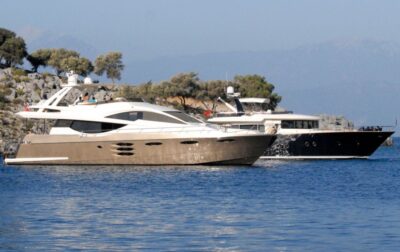 Yacht charter Turkey gulets which were built in the past could not be compared to Gulets and motoryachts built to sail with the construction technologies of today. There were not many gulets for commercial yacht charter business. The developing construction techniques have made gulet become luxury charter yachts and there are more investors and yacht builders and shipyards investing in the yacht charter tourism sector.
We now have yachts capable of sailing in almost all weather conditions except storms, and these boats are far more luxurious than 5-star hotels and they are similar to very high quality floating boutique hotels where the accommodations, airconditioning systems, wi-fi internet, satellite tv systems, and top of the line electronic navigation and modern communication technologies that can keep up with the necessity of today's businessman to communicate the world, internet, air conditioning, jacuzzi, even sauna or recreational pools on deck, meanwhile water toys such as jet ski, windsurf, diving equipment, music systems, advanced technology galley equipment to Serve a wide variety of menus from all over the world.
Yacht charter Turkey has been recently built under the supervision and quality controls of Rina or Lloyd's classification societies. The cost of the gulets which are built for 25-30 meters in length is at least one million euros nowadays. The prices of a commercial gulet for yacht charter Turkey can be higher, depending on the brand names and quality chosen by the yacht owner. Meanwhile, the running cost of a commercial yacht charter Turkey gulet or motoryacht is constantly increasing, just to mention a few, the yacht's annual maintenance fee, the yacht crew wages, the marina mooring charges, not to forget the famous 18% vat which is compulsory.

Investors and yachting enthusiasts who has entered the commercial luxury yacht charter Tourism sector by building a gulet or motoryacht could be forced to sell his boat if not calculating well, since the average yacht charter gulets may be chartering max 10 to 16 weeks during the season and the running cost remains the very same, so a yacht owner needs average 6 weeks to close even otherwise he should be in losses.