Gulets For Sale

Gulets for Sale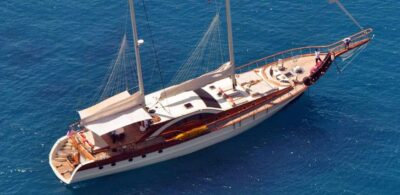 Meanwhile, Marmaris regional shipyards have broken records in gulets manufacturing with more affordable charter yacht production. The gulets for sale built in the free zone of Antalya, which has been commissioned in recent years, have reached a level where they can compete with the world markets. In the meantime, the gulets built in the Fethiye region have come to a good point in terms of production, it is possible to observe the skill of the master carpenters in the yachts they have built recently. a large number of gulets were built with the highest quality materials and craftsmanship has increased the building quality and the related costs when certain quality standards were introduced in gulet for sale production organization.
You should make an expedition survey to understands the gulet construction techniques, especially those who know wooden boats. An important issue is the electrical installation of the hull which is very important. an independent expertise survey can give you detailed reports. We sell gulets to our customers and we provide full-fledge information about the boat since this is very important for both the seller and the buyer to a great extent.
being honest and straightforward in every respect is our motto and It is your natural right to compare the possible alternative yachts and to calculate the costs of your long-term contract. Turkish Gulets are very popular and growing in demand for their stable, seaworthy, and spacious design and quality building with the highest quality gulet construction materials.
The construction of Gulets for sale in our country has started in the Bodrum region first. Many craftsmen have gained experience in Bodrum shipyards. The most beautiful Gulets for sale comes from Bodrum, Later, Marmaris and Bozburun shipyards were commissioned, although it was difficult to catch the same high quality of the Bodrum shipyards, recently good boats were built in Marmaris Then shipyards in the Fethiye region came into quality gulet building and the gulets for sale made a different point of view with their own style.
Istanbul shipyards started building very high-quality boats in favor of aesthetics and recognized in the international yacht market upbringing Gulet manufacturing to higher standards with new technologies.
Gulets For Sale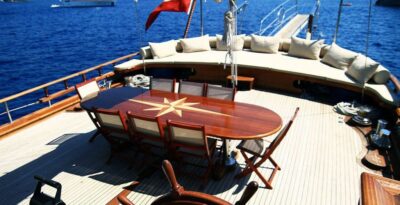 Nowadays epoxy laminated mahogany hull gulets for sale are produced by Istanbul shipyards and are showing off their quality all over the world. Besides, gulets for sale produced by Turkish shipyards are very popular in terms of low cost, easy maintenance, and durability. Gulets can be used for a comfortable liveaboard or commercial charter gulet which is chartered between 10 to 16 weeks during the summer season or you may choose to enjoy your gulets for sale during the weeks that you are not using and recover annual expenses or running costs with a flexible charter contract upon asking and sell option. There are hundreds of Turkish gulet for sale in our portfolio which are offered by the head owners and there is always a small negotiation margin in their asking price.